Getting Started
Introduction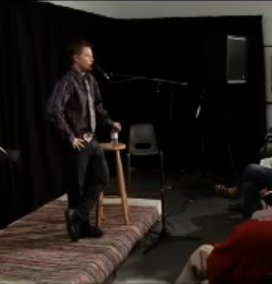 The core of the study guide is a set of presentation slides in PDF format that takes the class through a collection of performance, interview and workshop videos on YouTube. There is a set of slides for each lesson that contains bios, background information, warm-up questions, links to the YouTube video content, follow-up questions and suggested activities. The lesson slides are supported by resources such as a glossary, the text of a poem, instructions for planning a poetry slam and more.
Two Approaches
There are two ways to use the study guide:
Download a single zip file containing the entire study guide in PDF format. This works well if you want to print the materials or if you want offline access to all of the content except the videos.
Use this Web site to navigate the lessons and read the supporting materials. This is the simplest way (no files to download and manage) but requires Internet access at all times and isn't ideal for printing.
Whichever approach you choose, the lesson slides are always in PDF format and the video content is always online (YouTube).
If you'd like to download the complete study guide and supporting materials in PDF, you can skip the rest of this page and go straight there. Otherwise, read on!
Note to Mac Users
If you have Mac OS 10.6 (also known as Snow Leopard), you should download the complete study guide. The Web version relies on the Adobe Reader browser plug-in, which (as of early 2010) does not work with Safari or Firefox on 10.6. (If you're very determined, there is a workaround for Safari but it could have other side-effects).
What You'll Need
Internet access
Projector to show lesson slides and YouTube videos
Adobe Reader (download Adobe Reader for free)
External speakers (depends on the audio volume required)
Printed copies of slides and supporting materials (depends on how you use the guide)
Important Notes on Using the PDF Lesson Slides
Here are some key points about using the PDF slide shows:
Depending on your system, the PDF for each lesson will either open in a new Web browser window, or you may be prompted to download it. If you download it, you can just launch it on your computer. The slides will work either way.
If you download a slide show and open it in Adobe Reader, you'll be prompted to open in full-screen view. Click Yes, and select the Remember my choice check box.
Press the Escape key to leave full-screen view. To return to full-screen, press Ctrl-L (Command-L on a Mac).
Use the left arrow (←) and right arrow (→) keys to move through the slides. You can also click anywhere except on a link to move forward (hold down the Shift key while clicking to move backward).
When you click a video link in a lesson (either the title of the piece of the YouTube graphic) you may be prompted to allow the PDF to open a Web site. Click Allow, and select the Remember my action check box to avoid this prompt in the future.
It's possible that your Adobe Reader has been set up not to allow Web links. In that case, you will not be prompted and the link will not work. To fix this, can change the security settings in Adobe Reader as follows: Preferences > Trust Manager > Change Settings > Default behavior for Web sites that are not on the list.
Tips and Background
See the links on the left for tips on how to teach this study guide, and some background on spoken word. When you're ready, visit The Guide page to start the lessons.