Resources
Introduction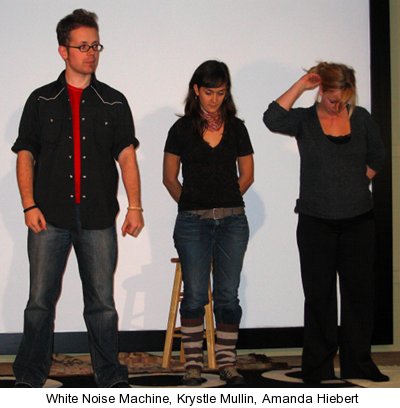 This page provides a detailed list of places to explore, online and offline, for spoken word. See the links on the left for other study guide supporting materials.
Online
Young Poets
The place for young poets and their teachers, includes an ezine, poetry contests, workshops, mentoring, interviews. Hosted by The League of Canadian Poets.
Poetry Map of Canada
A map of all of Canada's past and present poet laureates, with a photo, bio, poem and links for each poet. Also resources, quotes, what's happening
Words Aloud Festival
Annual spoken word festival held in Durham, ON. To volunteer, email mailto:info@wordsaloud.ca. Sign up for e-newsletter.
League of Canadian Poets
Canada's national organization. Poets in the Schools programs. Includes links to "Poetry Spoken Here," a listing of poetry readings and many other resources for poets, including templates for publishing your own chapbook.
Dub Poets Collective
The centre for Dub poetry in Toronto, "The Hub of the Dub"
Contemporary Canadian poets' profiles at University of Toronto Library is a great research tool for bios, writing philosophy, interviews.
Storytelling Toronto
Directory of Ontario storytellers, courses, annual festival
The Poetry Archive
With sections for teachers & students, is the world's premier online collection of recordings of poets reading their work. You can enjoy listening free of charge, to the voices of contemporary English-language poets and of poets from the past. The Archive is growing all the time.
Poetry Out Loud features a guide for teachers (writing exercises and lesson plans), sections for students, video & audio performances, plus many poems. Poetry Out Loud builds on the popularity of performance poetry by inviting the dynamic aspects of slam poetry, spoken word, and theater into the English class.
Flocabulary creates original hip-hop music and standards-based curricular materials to teach language arts. Watch Macbeth Rap.
Japanese Haiku Poetry Resources has a list of great resources for all age groups.
Bedtime Favourites - Nursery Rhymes has a collection of some of the most popular nursery rhymes to share with children.
Ultimate Guide to Storytelling helps you find out more about the storytelling world and connect with others who share your passion.
Books, Magazines & Zines
ReVerse
A zine for young poets.
The Claremont Review
International magazine of young adult writers. Holds an annual writing contest. Guidelines at: http://www.theclaremontreview.ca/annual_contest.htm
Brave New Voices: The YOUTH SPEAKS Guide to Teaching Spoken Word Poetry, Jen Weiss and Scott Herndon
Poetry Festivals & Venues
Words Aloud
Spoken Word & Storytelling Festival
L3 Writers' Conference The entire conference is organised and run by high school students in a specialized program entitled "iDeology. One of Ontario's largest literary celebrations, held in Barrie, Ontario.
Toronto Poetry Slam
People sharing poetry for everyone to enjoy. Check out monthly slams, slam rules, online forum. The Toronto venue for showcasing the incredible talent powering the spoken word scene.
Les Filles Electriques
Montreal spoken word festival
DVDs
Words Aloud Festival Archives for 2007, 2008.
These DVD sets are for all lovers of poetry and storytelling. They will make an excellent addition to any library's collection for teens to adults and a valuable resource for high school English, creative writing and drama teachers, as well as university literature, theatre and poetry courses. Proceeds go to Youth Literacy.
Words Aloud 4 (2007) Archive 5 DVD set available at www.titlehousedistribution.com/item.php?product_id=832.
Words Aloud 5 (2008) 4 DVD set available at www.titlehousedistribution.com/item.php?product_id=839
Words Aloud Documentary - the festival that brings a small town to its feet. View the Trailer.
Canada's best poets and storytellers electrify audiences, revealing spoken word's power to delight, inspire and transform. This documentary takes you on a journey through the many forms of spoken word, including dub, slam and lyric poetry, performance poetry, and storytelling. You'll get an insider's view of the Words Aloud Festival – performances, interviews, and the story of Adam, an 18 year old student who begins to find his own voice.You'll learn what makes a poet, what drives them to create, what's most difficult about the writing life, and what compels them to continue. You'll see how a small town creates a vibrant poetic community. Available from Words Aloud, ezetlin@gmail.com. $20 (includes shipping). Run time: 53 minutes.
Heart of a Poet
A documentary television series with each episode profiling the life, inspiration and performances of a working Canadian poet. Heart of a Poet introduces the featured artists and their writing through interviews, spontaneous recitations in and around their communities, readings at various locations in Toronto, and the many experiences both large and small that fill their days and help shape their poems.
Poetry in Motion
A film by Ron Mann, called the "Woodstock of Poetry," an anthology of 24 leading North American poets.
Grey/Bruce Area
Words Aloud Festival
Annual spoken word festival held in November Workshops and volunteer opportunities, plus Canada's best poets & storytellers
Grey Bruce Events Calendar
Literary Page includes writers' groups, workshops, news:
Sounds
Words and music series every 3rd Saturday at the Downtown Bookstore in Owen Sound - open mic contact: Caroline Menzies - cmenzies@rogers.com
Poetry friendly bookstores
Millennia Books, Downtown Bookstore, Ginger Press
Publishers
Brucedale Press, Downtown Bookstore, Ginger Press
Owen Sound & North Grey Union Public Library
Youth poet laureate & profiles of local poets
Profiles of local poets hosted by the Owen Sound Sun Times.
Community Forum for Grey Bruce Poets
A place to submit your own poetry.