Amanda Hiebert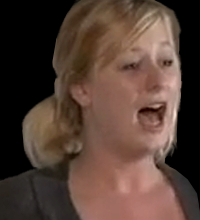 Bio
A member of the Toronto Poetry Slam Team for six years.
Toured across North America helping the team to the finals for four years at the Canadian Festival of Spoken Word.
Part of a poetry troupe called the Last Call Poets.
Performed over a hundred shows in Toronto and currently hard at work on her first book, titled You're Probably In This Book.
Author and producer of two full length plays, both of which played to sold-out audiences and critics' acclaim.
An actor on stage, television and film, both nationally and internationally. She was in the cast of "Blindness", co-starring Julianne Moore, Mark Ruffalo and Danny Glover.
In this lesson
Every Time I Go Home My Mother Asks...
Sing Hallelujah
Interview