Shane Koyczan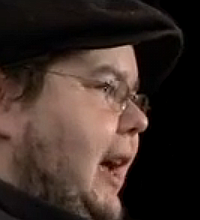 Bio
One of the world's premier spoken word performers.
Performed at the opening ceremonies at the 2010 Olympics.
Born in Yellowknife, Northwest Territories, he grew up in Penticton, British Columbia.
First poet from outside the USA to win the prestigious American National Poetry Slam.
His book Visiting Hours was hailed as a Book of the Year by The Guardian and the Globe and Mail.
Acclaimed for his riveting performances, worldwide. Koyczan's lyricism inspires audiences and readers alike because his poems speak directly to the heart.
In this lesson
This is My Voice
The Crickets Have Arthritis
Interview