John Steffler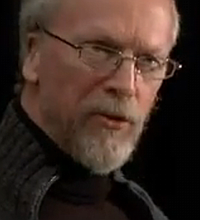 Bio
Served as Canada's 3rd Parliamentary Poet Laureate from 2006-2008.
His five books of poetry include That Night We Were Ravenous, which won the 1999 Atlantic Poetry Prize.
His novel, The Afterlife of George Cartwright, won the 1993 Smithbooks/Books in Canada First Novel Award, the Thomas Head Raddall Award and was shortlisted for the Governor General's Award and the Commonwealth Prize for Best First Book.
Although born in Ontario, Steffler adopted Newfoundland and Labrador as his home for over 30 years ago.
His writings about Newfoundland reflect a most Canadian occupation with discovery and exploration.
His classic of Canadian wilderness writing, The Grey Islands, describes a sojourn on an isolated island off the coast of Newfoundland.
In this lesson
That Night We Were Ravenous
My Latest Invention
Interview